ISSS Northeast Chapter Event [24 Mar 2021, 2359hr, Singapore time]
We are delighted that Northeast Chapter has once again extended their Lunch and Learn Event to Singapore Chapter. We encourage our affiliates to sign up and join the event on how different interpretations for determining the probability of a safety event can lead to different management conclusions. Learn more and sign up through this brochure.
38th International System Safety Conference
The 38th ISSC offers three weekly program:
•Week 1: October 27 - October 29
•Week 2: November 3 - November 5
•Week 3: November 10 - November 12


Details of the programme can be found here:
https://system-safety.org/page/2020-schedule


ISSS Northeast Chapter Event on WSESRB
We are delighted that Northeast Chapter extended their event on US Weapon Systems Explosive Safety Review Board (WSESRB) to the Singapore Chapter. Singapore Chapter affiliates participated in this event through Microsoft Teams on 23 Apr 2020. Learn more about this event through this brochure.
2019 World Congress on Resilience, Reliability and Asset Management (28 - 31 July 2019)

The 2019 World Congress brings scientists, policymakers, and practitioners from the areas of resilience, reliability, and asset engineering together to share the latest knowledge, approaches and experiences to make interdependent infrastructure systems more robust and resilient. The congress and the networking opportunities provide the platform to develop new insights to contribute to the improvement of infrastructure assets and systems management.
[Click] for more information and registration.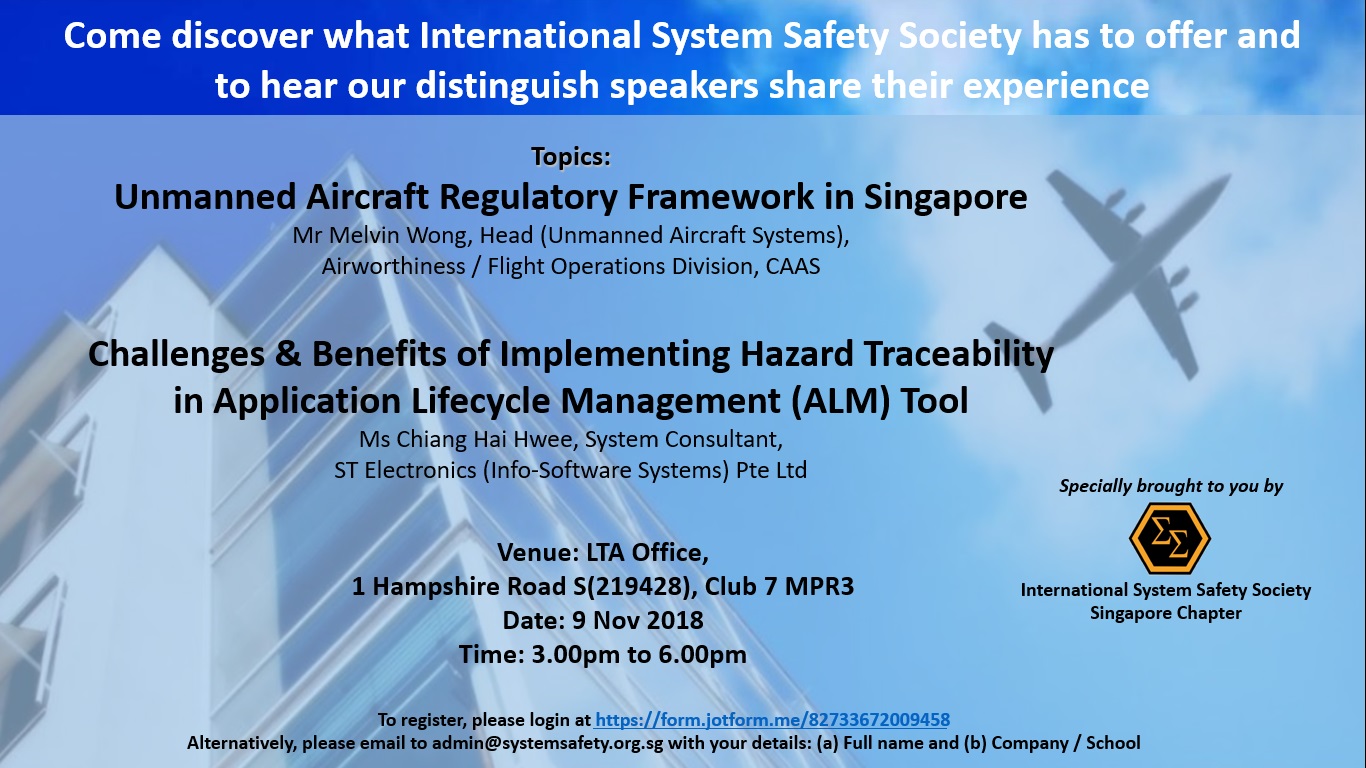 Sharing Session on 29 Jun 2017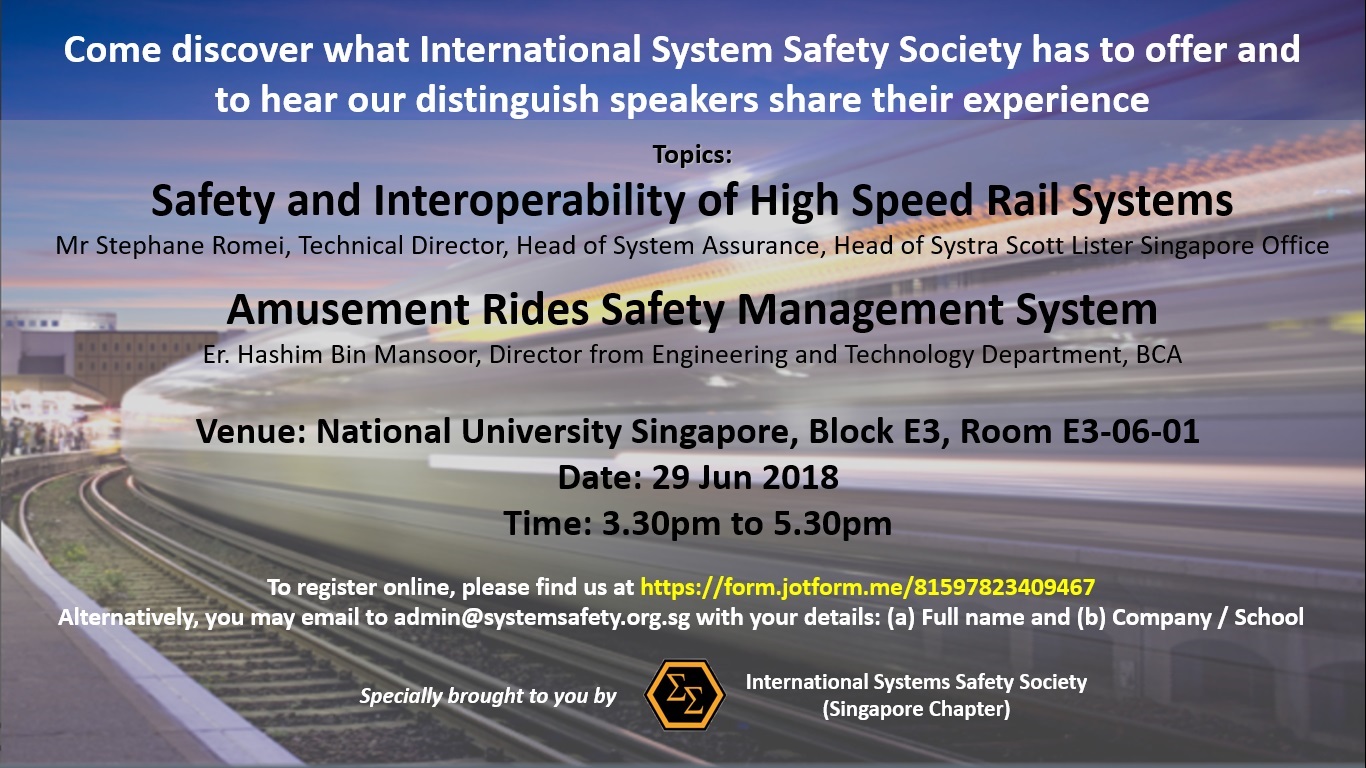 [Speakers Profile and Presentation Materials] - affiliate access
Sharing Session on 19 Jan 2018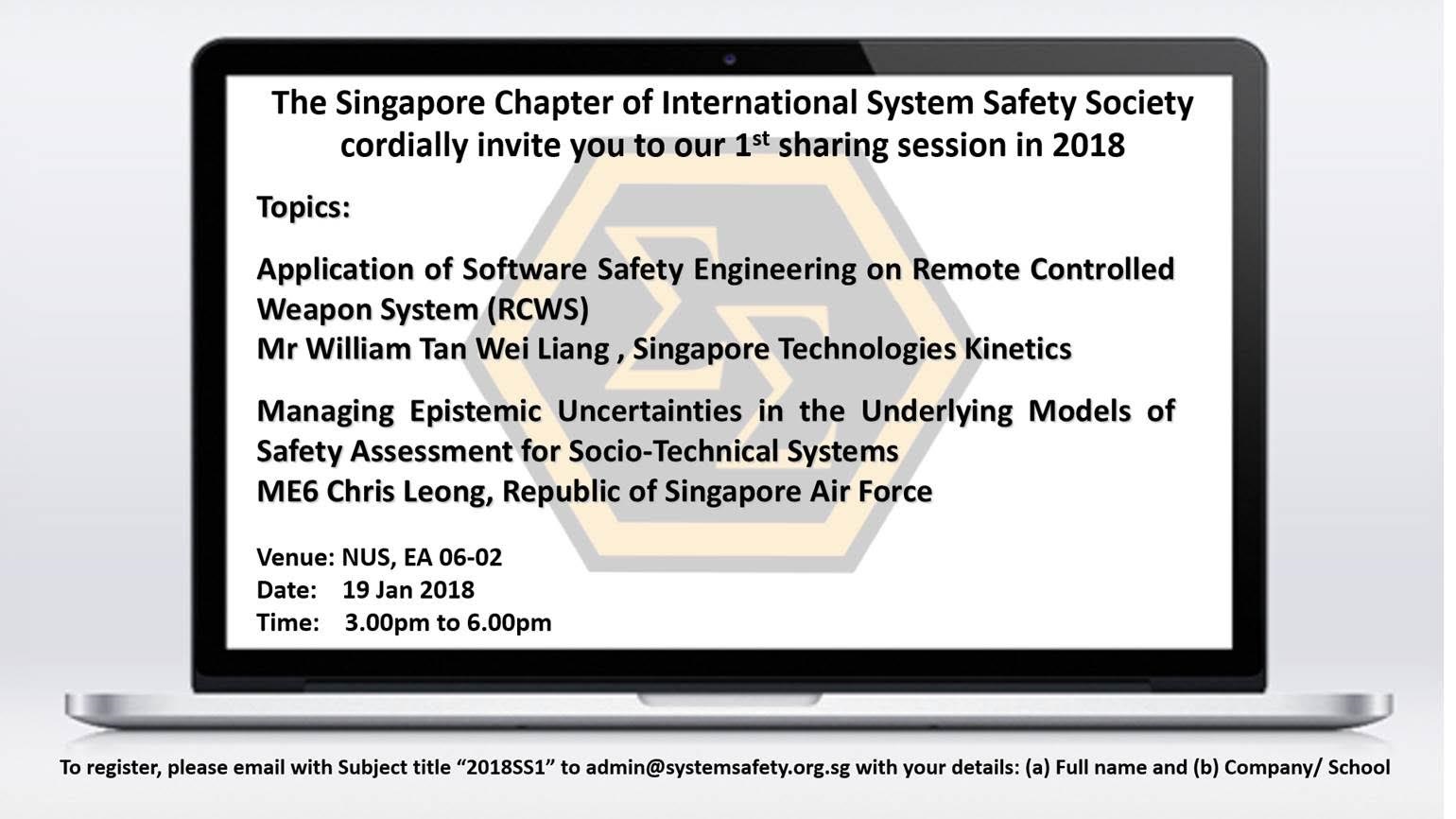 Sharing Session on 19 May 2017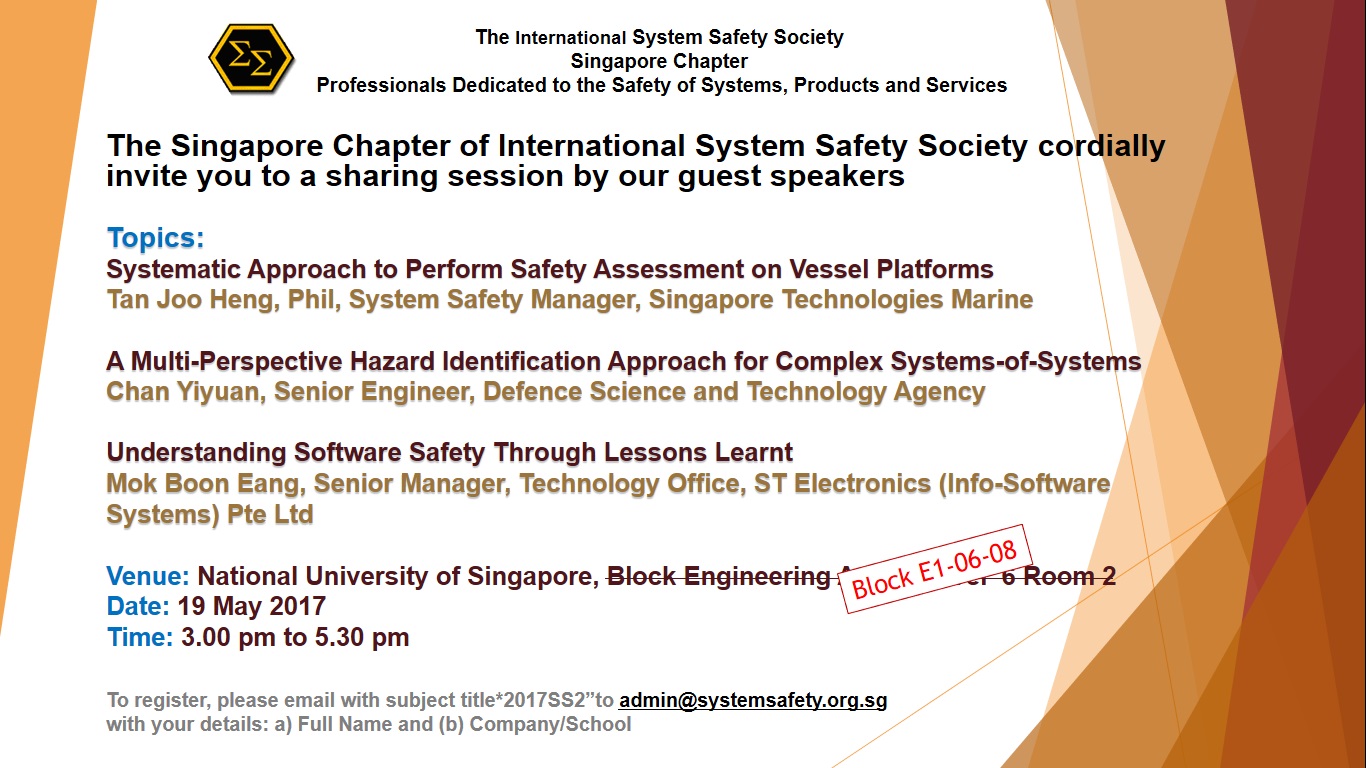 Singapore Chapter Sharing Session on 18 Nov 2016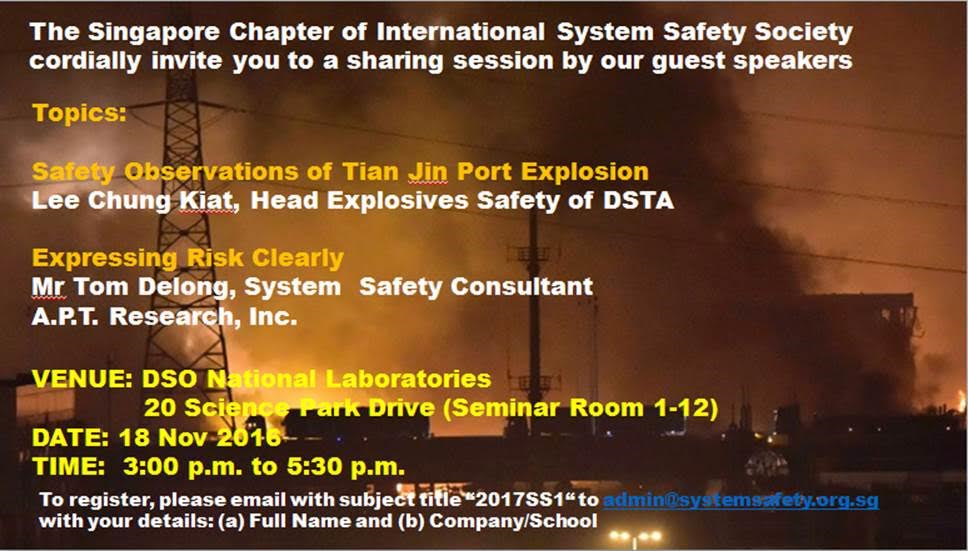 Singapore Chapter Sharing Session on 30 Jun 2016
Review this Sharing Session.
Singapore Chapter Sharing on 16 Sep 2015, 4.00 pm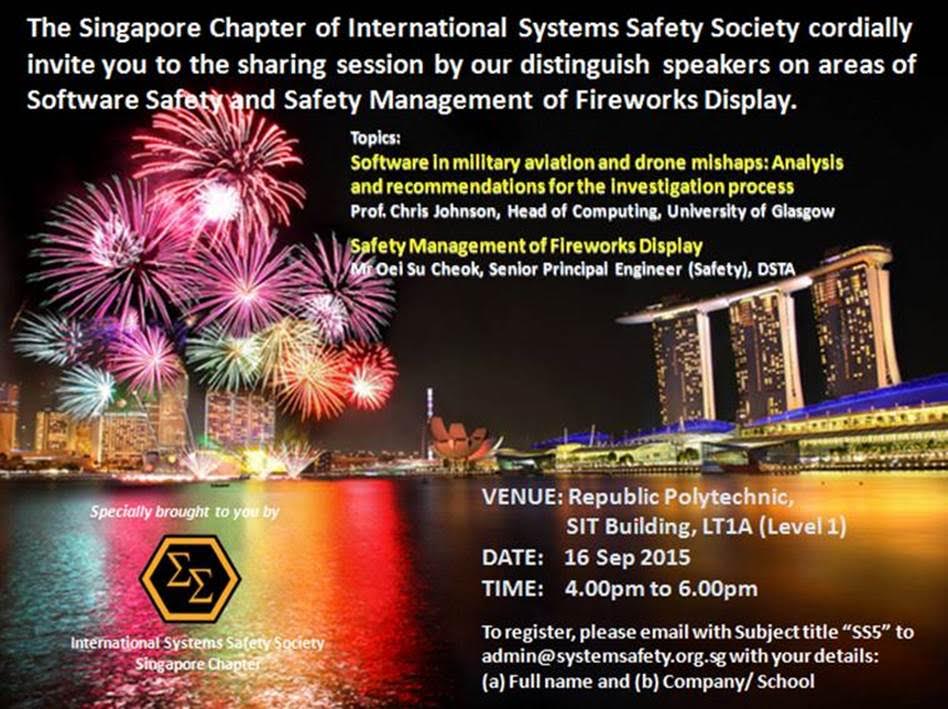 Our speakers will share the following topics:
Software in military aviation and drone mishaps: Analysis and Recommendations for the Investigation Process
Safety Management of Fireworks Display
See also: Our past sessions
Award for System Safety Outreach, 2015
The International System Safety Society recognises this Singapore Chapter for exemplary achievement in System Safety Outreach
- Awarded 27 August 2015, during the 33rd ISSC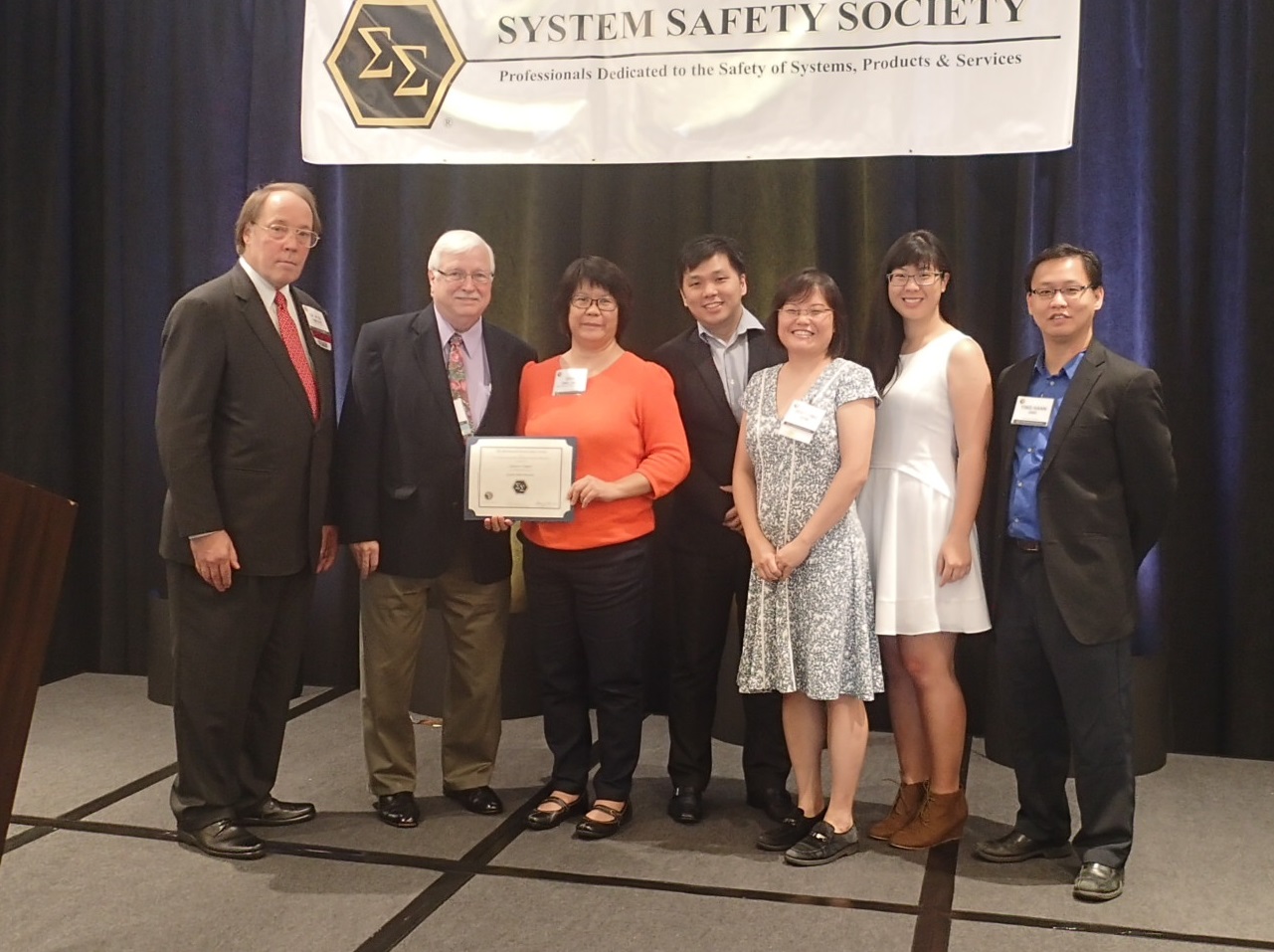 Chapter 10th Anniversary Celebration
The Singapore Chapter celebrated our 10th Anniversary on 29 Oct 2013. The program included sharing of topics by Clif Ericson and Prof Sidney Dekker. The event also hosted a discussion of issues on system safety that are of interest to affiliates of the Singapore Chapter. The event photographs can be viewed on the Chapter
Facebook page
.
Chapter Exco (2013) lined up
Ten Lin Mei leads the New Exco (2013) of Singapore Chapter.
The Singapore Chapter is proud to receive the Chapter of the Year award from the Parent Society during the ISSC 2012 held in Atlanta, Geogia, USA.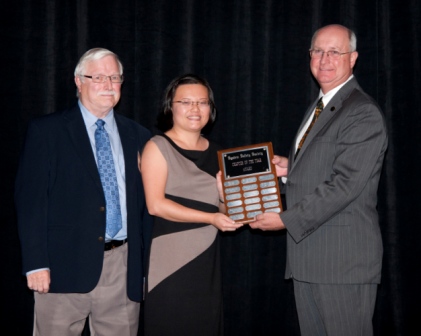 Siow Seet Ting received the award from Gary Braman, President of the International System Safety Society. Director of Chapter Service, Gerry Einarsson is on the left.
Our regular Sharing Session was held on 18 July 2012. Presentation materials are available from Affiliates Area. See photo album.
Appointment of Eng Ling. The International System Safety Society has in Dec 2011 appointed Onn Eng Ling as Regional Vice President (RVP) for Asia/Pacific for the Society Years 2012 - 2016. Congratulations to Eng Ling!
Sharing Session on 10 Nov 2011. Find out about our Sharing Session.
Human Factors and Safety Engineering. The one-day course provided an introduction to the Safety and Human Factors disciplines along with an overview of the scope of human factors analyses in the context of safety-related systems engineering.
Chapter Sharing Session - Update on Software System Safety Handbook, Risk Based Explosives Safety and Chapter Updates shared at 16 July 2010 session. See Details.
Dr Rod Simmons' System Safety Analysis Technique Course (7 Dec to 9 Dec 09 and 25 Jan 10 to 27 Jan 10) were successfully completed. Read more.
Job Opportunity
Check out our new section on system safety Job Opportunities on this website.
Corporate Membership
Defence Science and Technology Agency (DSTA) and Singapore Technologies Kinetics are corporate members of the System Safety Society... View
Chapter Past Events
Seminars &Training Sessions and we have more ... View
Participate / Share with Us ... View